Best Lead Generation Tools in 2021
Leads are the lifeblood of any business, and they're a lot easier to come by when you have an effective lead-generation strategy in place. But with so many options out there, it can be hard to know which ones will work best for your particular needs. That's why we put together this list of five top lead-generation tools that should get you started on the right foot.
Lead generation software tools allows marketers to get more leads. Business owners can use lead generation software to get more leads and pass them to their sales reps to generate more sales.
Lead generation tools are of various types and can be classified into three major categories - lead identification, lead nurturing and lead conversion. Lead identification tools help in finding potential leads on the internet through keyword searches. Lead nurturing tools help in building relationships with new prospects by providing them with valuable information about the company's products and services. Conversion tools focus on converting leads into customers by providing them with a free trial of the product or service that they need to convert into a customer.
Today we are going to review some tools for lead identification.
You could of course use Lead Scrape to find new leads and email addresses to help you find new potential customers, but we've put together a list of other tools that can help you generate B2B leads and emails for your marketing and email campaigns. You can use whichever ones you prefer in your marketing plans, and as a result, expect even higher sales.

Some of the best lead generation tools that you can use for your business include:
LinkedIn
ZoomInfo
D&B
Lusha
Lead411
LinkedIn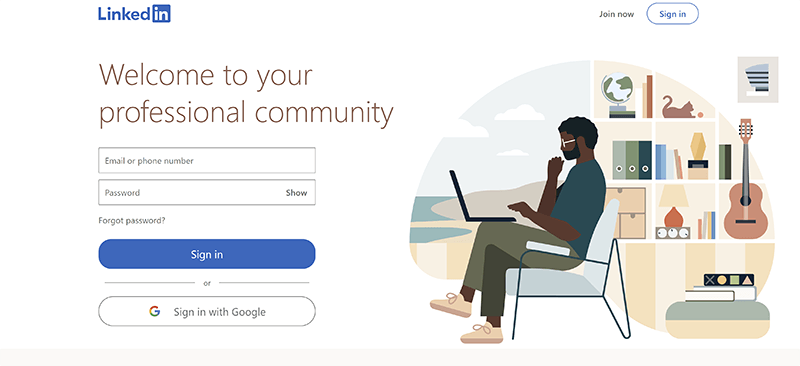 LinkedIn can be an effective lead-generating tool, especially when you use it the right way. Even if you set up your account to specifically target leads, you can also take advantage of LinkedIn's other features like showcasing your company's work and networking with potential customers.
Simply put, LinkedIn is where pros go to level up in their career. On the platform, you might keep an eye on your industry news, find new recruits or look for tools to optimize your productivity.
If your business offers what they need, LinkedIn is the best way to get in touch, and the conversion rate is always high. There are around 500 million people using LinkedIn, 260 million of which use the website every day. That's 44% of all users. This creates an influx of potential B2B leads that you or your marketing team can engage with daily!
Pricing: Starts at $79.99 per month per user
ZoomInfo

ZoomInfo is another very popular B2B leads tool. The information from ZoomInfo is very accurate and trustworthy. Zoominfo helps businesses connect with prospective clients online. It provides access to over 1 billion records from public sources such as government agencies, newspapers, magazines, trade associations, professional organizations, etc., making it one of the most comprehensive databases available today.
With this tool, you can filter based on multiple criteria (like job title or contact details) and generate high-quality, well-targeted leads. In a few clicks, the software provides an extensive database of all the required information you need to know about the company you are researching. It includes geography, industry, revenue, size and more. You can also access professional email addresses and direct phone numbers of qualified leads for each company searched, ready to be uploaded into your email marketing tools.
ZoomInfo is one of the best databases on the market. We have used many different ones and this one really stood out.
Pricing: Starts at $10,000 per year
D&B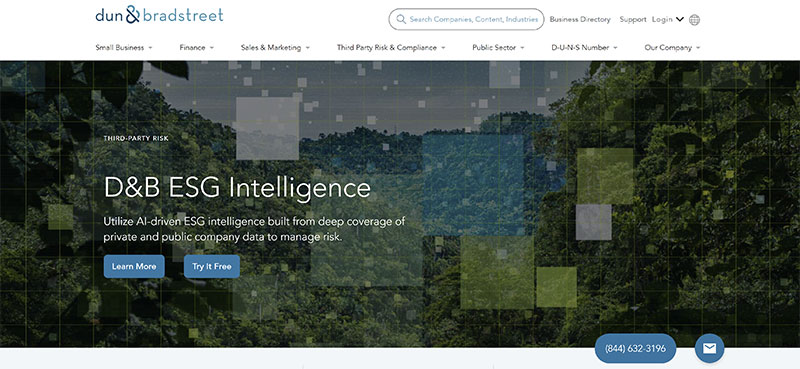 D&B database contains detailed contact data including name, title, organization, address, telephone numbers, fax numbers, URLs, emails, websites, mobile numbers, job titles, annual revenues, industries, subsidiaries, and much more.
The database is very robust. It includes detailed information on the vast majority of companies that we have ever searched. This includes small enterprises with up to 10 people as well as larger enterprises with thousands of employees.
You can sort search results in many different ways, e.g. by country, state, industry type etc. This filters the endless possibilities so you can find what you're looking for more smoothly and quickly. It gives you the ability to spend less time sorting through all the information so that you can focus more on the next steps and actions you want to take with your new founded leads.
It's easy to upload data from D&B into Salesforce using the provide Salesforce connector or into most marketing automation tools out there..
Lusha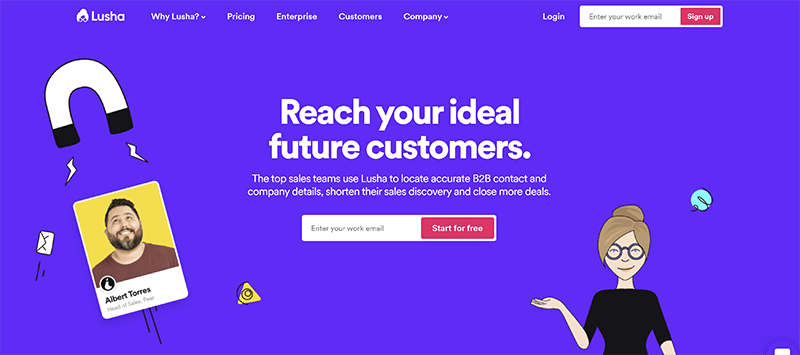 Lusha is a lead generation tool that helps companies generate leads online. You can use Lusha to find your target audience and automate email campaigns to increase your conversion rate.
Working with Lusha has helped over 250,000 sales representatives, recruitment managers, and marketers improve their interactions with leads, contacts, and candidates.
Lusha is really easy to use and integrates nicely with Salesforce. There are lots of opportunities to learn about the company you're targeting, which will help your sales team focus on valuable leads.
The bounce rate from emails provided by Lusha tends to be low even for cold emailing campaigns.
Pricing: Starts at $99 per month per user
Lead411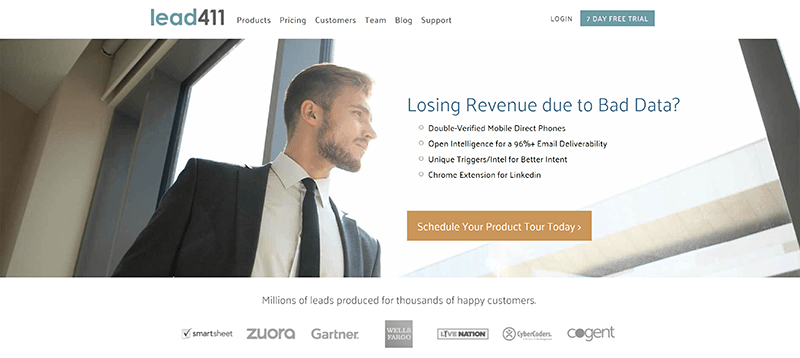 Lead411 is a great B2B data platform, offering consistent high quality company profiles, including company data and contact information for verified contacts through its service.
With all the information you found about companies, you will be able to make an educated decision about who you would like to do business with and create a new email list for your marketing team in minutes. The platform also offers great tools for reaching out to leads.
Lead411 provides the names, job titles, emails and phone numbers of staff in any given company. You can find their details in one place and import into your sales tools or any other marketing software or crm.
Pricing: Starts at $99 per month per user
Conclusion
In this article, we have discussed some of the best lead generation tools that you can use for your email marketing campaigns and for your cold emails.
Finding a lead tool that works for you is the most important part of your lead generation & sales process. There are a lot of marketing tools out there, but choosing one that will actually help you reach your goals is key.
Blog Posts